Meghan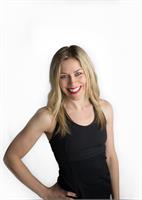 Meghan Grant has always had a strong passion for exercise, being active, and living an overall healthy lifestyle. When she moved to Hoboken and found Local Barre she quickly became addicted, finding the classes invigorating and challenging, the instructors inspiring, and the entire staff warm and welcoming. After having her son in 2012 Meghan used Barre to get herself back into shape and loved how it made her stronger and changed her body...she even saw her abs again! After a long career in public relations she finally decided to turn her love for fitness into something more and pursued becoming a Barretender. Also an avid cycling enthusiast, Meghan is so excited to join the Wheelhaus team, and has a certification in Mad Dogg Spinning. Meghan loves being a part of the Local Barre family and creating lively and challenging classes to help clients to achieve their fitness goals.There's nothing better than helping people to look and feel their best!
Meghan instructs the following:
Our signature class, Open Barre is a fusion of ballet fundamentals, core conditioning, Yoga and stretching for a total body workout using lightly weighted yoga balls, stretching strap, ballet barre, playground ball, and yoga mat to achieve a lean, flexible, youthful body. Open Barre is just that, open to beginners and all levels of practice. Socks are required.