Jennifer V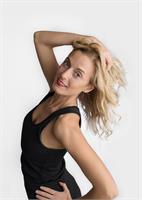 What's your teaching style?
Energetic and creative
Guilty Pleasure?
Nocciolata (vegan Nutella )
What's your hidden talent?
Planning fundraisers /events for Beagle Freedom Project
Who best channels your inner Diva?
Not who ....nothing like a little black dress, heels and red lips
Favorite (Barre) Position?
1st position hip shakes
What's your mantra?
Travel as much as possible ! Or work hard play hard
Why Barre?
Because the shakes and burn are addicting
Proudest Moment?
Adopting Minnie and Rescuing Liberty (from animal testing ) and passing the principal exam
Jennifer V instructs the following:
A mixture of barre exercises, yoga, weight training, HIIT and core strengthening techniques. Be prepared for a challenging amount of plank runs, lunges, kicks and pulses. Grab an extra towel and try out our newest, SWEATIEST class yet. Sneakers are required. This class runtime is 45 minutes.