---


Every day we witness the incredible transformations our clients go through. These untold stories continually inspire us to keep doing what we love. We realized, if these stories inspired us then imagine what it would do for our community!

So we started the Derriére Diary, a series of stories that aim to motivate those looking to reach their own goals and challenges. The same ones our clients go through every day.

But to start off we needed a strong voice. A fixture in our local community who's brave enough to put their goals and progress on display in real time, for the world to see. So we invited the beautiful Tiffany Pinero to share her fitness journey.

Read about her first week here.

Week 2: June 22 - 28th

This week was challenging because work wise I was so busy. I was happy to have completed four barre classes, two of them being challenging private sessions with Lauren. I wanted to better with my eating so I didn't diminish my hard work. My jammed schedule made it difficult for me to work in any extra cardio and I felt like I didn't do the best job packing snacks which made me very hungry in situations where there were little to no healthy options.

Fortunately, Local Barre hooked me up with Tamara, a Holistic Health Coach! With just a few minutes to chat she already has provided me some encouraging food solutions for when I get in those situations so I am excited about that!

Having Lauren really study my form has been amazing. She noticed I work my body in a linear way and has been challenging me with circuits and moves that also work my body laterally. My hips and lower back feel so much looser it has made a world of difference in just a couple of days. I am loving the weighted series. My arms are already looking a touch more toned and I feel myself lasting longer in plank and increasing my push ups.


MONDAY - Cardio/Circuit Private Session with Lauren
TUESDAY - Rest Day
WEDNESDAY - Duet Private Session with Lauren
THURSDAY - Open Barre with Megan
FRIDAY - Open Barre with Amber
SATURDAY - Cardio on my own
SUNDAY - Rest Day

Coming Up
This week I am actually away on vacation but that's not keeping me from my workouts. Lauren was able to help me set up a schedule for my week away.

Mini Challenge: This week I'm going to master the WALL SIT! Stay tuned on i

nstagram

to see how you can help!

Cheer Tiffany On!
Stay up-to-date on Tiffany's progression by following Local Barre and Tiffany on Instagram!



---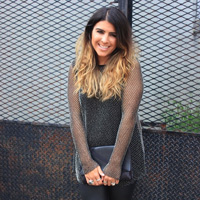 Tiffany describes herself as being style obsessed, having an affinity for all things shiny and out her budget, and living for a good dance off and Beyoncé. She is a fashion stylist based in Hoboken, NJ catering to personal wardrobe and business clients throughout the tri-state area. You can find out more about her and her styling company at TiffanyPineroStyle.com