---


Every day we witness the incredible transformations our clients go through. These untold stories continually inspire us to keep doing what we love. We realized, if these stories inspired us then imagine what it would do for our community!

So we started the Derriére Diary, a series of stories that aim to motivate those looking to reach their own goals and challenges. The same ones our clients go through every day.

But to start off we needed a strong voice. A fixture in our local community who's brave enough to put their goals and progress on display in real time, for the world to see. So we invited the beautiful Tiffany Pinero to share her fitness journey.

Read about her first week here.

Week 5: July 13th - 18th

Another busy week came and went and I faced it with enthusiasm. Seeing results will have you feeling that way ya know ;). Two Barre classes + two servings of Robert's Booty Camp had me feeling amazing. The combination of very targeted workouts and really refining my meals with the help of Tamara is working. I am seeing definition in my stomach and an overall flatter appearance all around. I also am seeing a nice perkiness to my backside. Guess you don't call it the derriere diaries for nothing!


My book shoot is this week and although that was my main motivation, I am not stopping. My results have motivated me to see what can happen with more time and dedication. Overall I am happy with where I am and confident to do my shoot. I am so obsessed with Booty Camp I shortened our Tuesday shoot in upstate NY so I can get back in time for my evening class with Robert. It's addicting!


MONDAY - Cardio on my own
TUESDAY - 4 mile run + Outdoor Booty Camp
WEDNESDAY - Rest Day
THURSDAY - Outdoor Booty Camp
FRIDAY - Robert's Outside Circuit Training
SATURDAY - Janelle's Barre Class
SUNDAY - Rest Day

Coming Up

Mini Challenge: This week I'm going to master the Lunge! Stay tuned on i

nstagram

to see how you can help!

Cheer Tiffany On!
Stay up-to-date on Tiffany's progression by following Local Barre and Tiffany on Instagram!



---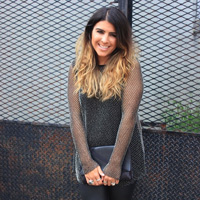 Tiffany describes herself as being style obsessed, having an affinity for all things shiny and out her budget, and living for a good dance off and Beyoncé. She is a fashion stylist based in Hoboken, NJ catering to personal wardrobe and business clients throughout the tri-state area. You can find out more about her and her styling company at TiffanyPineroStyle.com