---


Every day we witness the incredible transformations our clients go through. These untold stories continually inspire us to keep doing what we love. We realized, if these stories inspired us then imagine what it would do for our community!

So we started the Derriére Diary, a series of stories that aim to motivate those looking to reach their own goals and challenges. The same ones our clients go through every day.

But to start off we needed a strong voice. A fixture in our local community who's brave enough to put their goals and progress on display in real time, for the world to see. So we invited the beautiful Tiffany Pinero to share her fitness journey.

Read about her first week here.

Week 7: July 27th - August 2nd

As silly as it sounds my biggest struggle this week was staying hydrated. It was a hot one! I felt like although I was drinking a lot, with the heat, I needed more water. Then I fell into that confusing area of, am I hungry or am I thirsty? The good news is I fed a lot of the feelings with more water and stayed on track. I can see how that would have challenged me in the past though.

It was a great week for a variety of classes. I was able to mix in barre with an instructor I haven't had before, Jen V… you betta work! My glutes were pushed to the maximus. On Friday I ended my week with Wheelhaus. A.) Kim's playlist would have me riding forever, so fun and B.) it is such a different workout my body was thriving on the switch. I took the weekend off from the barre but still got some cardio in shopping for a client. ;)

I posted a recipe Tamara gave me on my Facebook page recently. The sweet potato muffins are perfect on the go and have a hearty with a touch of sweet taste I love!


MONDAY - Cardio
WEDNESDAY - Barre Class
FRIDAY - Wheelhaus
SATURDAY - Rest Day
SUNDAY - Rest Day

Coming Up

This week is the lunge challenge!

Cheer Tiffany On!
Stay up-to-date on Tiffany's progression by following Local Barre and Tiffany on Instagram!



---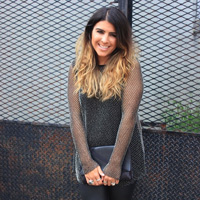 Tiffany describes herself as being style obsessed, having an affinity for all things shiny and out her budget, and living for a good dance off and Beyoncé. She is a fashion stylist based in Hoboken, NJ catering to personal wardrobe and business clients throughout the tri-state area. You can find out more about her and her styling company at TiffanyPineroStyle.com