---

It's not difficult to get inspired by our barretenders. They're fun, fearless and somehow make eight counts sound inviting. This month's "It Girl" Meghan kills it in class but once she puts her grippy shoes away it's all about running after her two little ones.



Going from the barre to mom life can be an endless cycle of never wearing real pants! But when you've got a physique that was earned through working every last muscle it's important to have wardrobe pieces to accentuate that while still working with your lifestyle.



Enter a hot pair of jeans. From the playground to cocktails a great dose of denim will make you feel confident while having endless styling potential. Black jeans in particular can add an edge to daytime garb like this supple plaid shirt, and can also add a glamorous air when paired with heels for night. The rips in these are are playful, and are frayed beautifully to look like delicate fringe. If you've ever thought you couldn't do ripped denim because it comes across too youthful, think again. These are chic.



Finishing off this look is a textured topper with a leather jacket silhouette. The combination of strong and soft work beautifully here and again can be styled many ways. Wear a jacket like this as shown with jeans, over a dress with tights and ankle boots or with winter white trousers to really make a statement. The versatility of styling key pieces is essential when you're a mom with maybe ten minutes to get ready!

Jacket, plaid shirt and jeans all from our new neighbors, contemporary clothing store Alba Boutique, located on Washington Street between 7th and 8th.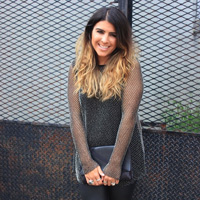 Tiffany describes herself as being style obsessed, having an affinity for all things shiny and out her budget, and living for a good dance off and Beyoncé. She is a fashion stylist based in Hoboken, NJ catering to personal wardrobe and business clients throughout the tri-state area. You can find out more about her and her styling company at TiffanyPineroStyle.com